【Well-known Artist-India】John Joseph
来源:本站
作者:编辑
日期:2021/9/28 21:35:47
2nd《Save the Planet》International Artists Exhibition
第二屆《守護地球》國際藝術家大展
2021/11/02(二)~ 2021/11/29(一)
臺南市政府 民治市政中心 一樓展廳
【Well-known Artist-India】John Joseph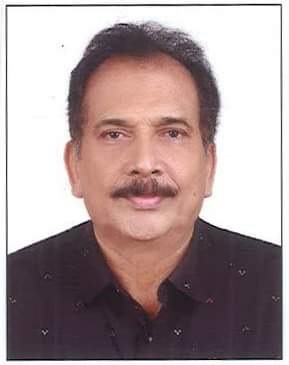 ARTIST'S STATEMENT
Our planet earth is going through difficult situations. Other than the spontaneous changes taking place in the planetic conditions, the unlimited and unethical industrial emissions make the situation worse. The everyday increase in traffic density and other sources of emissions too adding to the worsening of global warming and other related issues. It's all mainly due to the human negligence. Here, what we require is to make people aware about the adverse present and future conditions of our planet. There are several ways to create awareness among public with the help of press, medias, billboards etc. In all these options, art could get involved and play a large role as it could touch the soul of every individual. Exhibitions of paintings that express the adverse impacts of climatic changes that harm the existence of humanity and the planet earth could help people open their eyes and start acting to prevent it at least in a reasonable way. Art and artists could easily conceive the importance and it's easy for them to express it through their creative skills. These sincere efforts could be productive in the process of saving our planet to a certain limit.
My artwork here is from my series of works titled " mind frames ".
As we are subject to be reactive to whatever is taking place in and around us, there will be the traces of our thoughts and feelings in our creations too. The consolidation of frames in our mind could be that particular work.
Likewise, this work too has the influences of the the efforts to save our planet with the added helpless situations created by the horrible pandemic conditions that makes us forced to live a life unknown to us.
The harm that caused to the planet and its inhabitants are of nothingness in the dark.
You could feel all these bitter tastes in this work.
John Joseph
BIODATA :
69 years of age
Born in India, Kerala, in an island village , Panangad, near to the city of Kochi.
Graduate in Philosophy from Maharaja's Collage Ernakulam.
Started my art career right from my college days ( 1970 - 73 )
Self taught artist.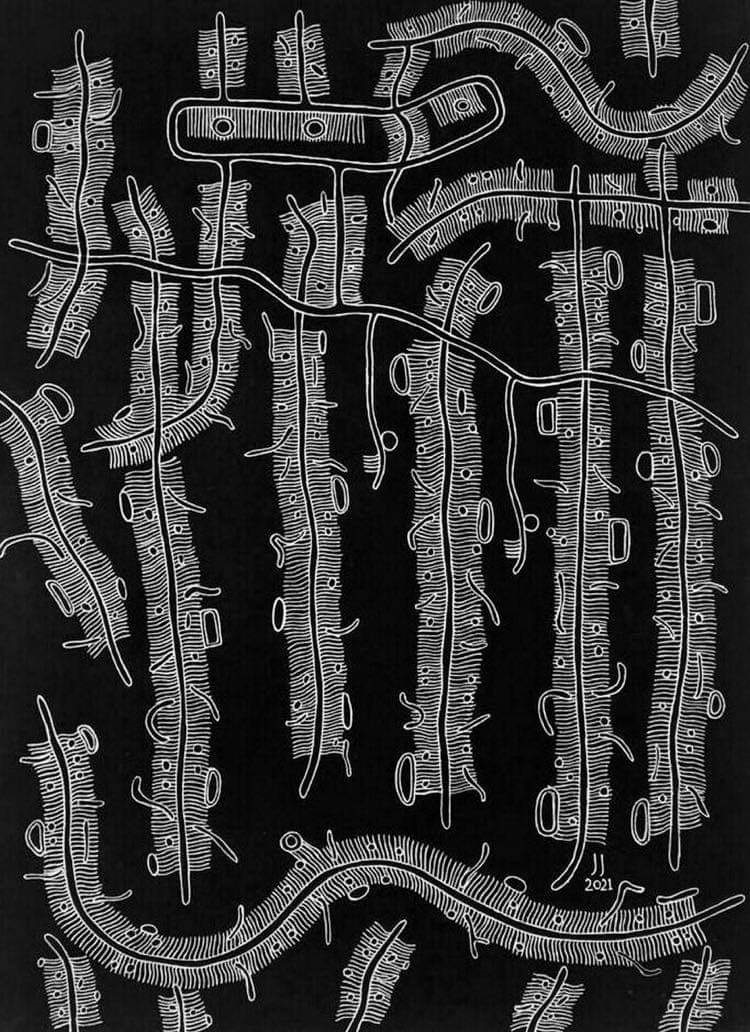 Artist : John Joseph ("mind frames"_Pen on handmade paper_77×56cm_2021) India
Member, Kerala Lalith Kala Academy;
Dubai International Art Centre; Multi Cultural Art Society Ohio USA; Cheong Ro Arts Association, Incheon Metropolitan City, S Korea.
Have attended several workshops, group shows and solo shows in India and abroad.
Due to Pandamic it was not possible for any solo show or group show for the last one year.
But participating in quiet a number of online shows. Kindly note few of the recent participations:
# Karnataka Chitrakala Parishath 18th Chitra Santhe 2021.
# Incheon Metropolitan City Branch of National Arts Association S Korea Exhibition 2020.
# Sanskar Bharati Chitrakoot, Gorakhpur UP International Art Exhibition 2020-21.
# Kolkata Centre for Creativity, Following "The Strokes Through Dark Times " reflective national exhibition 2021.
# Karkhana Art Space International Exhibition 2021 Honorable Mention Award.
#Camel Art Foundation Annual Art & Design 2020.
# Tagore University of Literature and Art Bhopal, 2nd Tagore National Exhibition Of Painting 2020.
# The Bombay Art Society 129th All India Annual Art Exhibition 2021.
# Best Artist Award, June 2021, ArtBook The Platform, Germany.
# VIVID Exclusive Art Gallery, Nigeria, July 21 Group Shows.
# Leon Art International based at Equador all 3 online shows 2021.
Russia India cultural exchange online international art rely phase 3, 2021.
# Cheong Ro Arts Association International Festival Member Exhibition, South Korea 2021
# Abolition of Slavery In Venezuela Online Art Exhibition 2021.
# " Pray For Myanmar ', initiation of virtual art exhibition from Indonesia for peace2021
# USART International, ATATURK Online Art Exhibition, Turkey. May 2021.
# USART International Culture And Art Society Online Exhibition July 2021.
# The ongoing Bombay Art Society Exhibition " Colours Of Independence, India Independence 75 Years.
# L'ART DU NOUVEAU MONDE 2021
(THE ART OF THE NEW WORLD 2021).
Part of the 111 International Artists United to create a new work of Collage by every artist creating a new work in A3 sheet; then cut it into 8 pieces to make this huge (43 × 30 meters) Collage done at The Montepioux, 5- Alpinien, France.
My work is choosed as the cover page the brochure of this great project.
Works mainly in acrylic, oil, watercolour, mixed media and drawing.
Collecters in India and abroad.
I have developed my own exclusive style and being recognised as unique.
Art my passion.
My works are the frames of my mind.
The best for Art and Artists!
Wonderful activities 精彩活动